willkommen bei cmdt information
wir bieten dienstleistungen rund um informationen
we offer information-related services
Open
Open Source, Open Standards, Open Access, Open Data, ...
Produktion
Open Access, Kollaboration, Crosspublishing, Formatvorlagen, XML, Metadaten Management, Primärdatenmanagement
Ordnung
Taxonomie Entwicklung, Information Lifecycle Management, GPM, moderne Aktenführung / Recordsmanagement, Compliance
Nutzung
Blockchain, Search Engines, Cloud und Syncro, Formatobsoleszenz, Aufbewahrung, Repräsentation, Website, Daten Migration
Beschaffung
Recherchen, eDiscovery, Öffentlichkeitsgesetz
Systeme
Standards, Schnittstellen, Evaluationen, Implementationen, Gever, eGovernment, Cloud Computing
Sicherheit
Information Governance, Datenschutz, digitale Signaturen, PKI, Verschlüsselung, sichere Übermittlung, Mensch als Sicherheitsrisiko
Forschung
Information society, Information literacy, Knowledge production, Open data, Open access, Digital divide, Social network, Crowdsourcing, Work-life balance
EinfachDigital.
Das persönliche Informationsmanagement.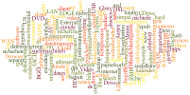 cmdt camel

Analog supported by digital. CMdT camel token. Blockchain, ICO, Smart Contracts.
Feel free to contact us.
We look forward to you.
cmdt information gmbh, switzerland